Maybe you've got bored kids on your hands and plenty of paper to put to use. Maybe you're just an adult who wants to make stuff with paper, because who says only kids can?
No one, that's who. Or at least, no one you need in your life. 🙂
Either way, I've got some fun ideas for cool stuff to make with just one sheet of paper!
Everything I list here has written instructions, but there's no reason why you absolutely have to use these exact links. I just personally hate watching videos. Diagrams are the best for origami-type crafts, amirite?
---
One-page minizines
One of my favorite things to make with one sheet of paper is the legendary one-page minizine. With one simple cut along the middle fold of regular printer paper, you can turn it into a little booklet to fill with any kind of art or writing you want.
The best part? Zines are specifically made to be really easily scanned and copied. So even though there's a part where some folding magic happens, all of your work is still on the same side of your original sheet of paper. Sound confusing? No worries. Ya need a visual, I think.
Check out this blog post to see how it's done. Pay special attention to this infographic: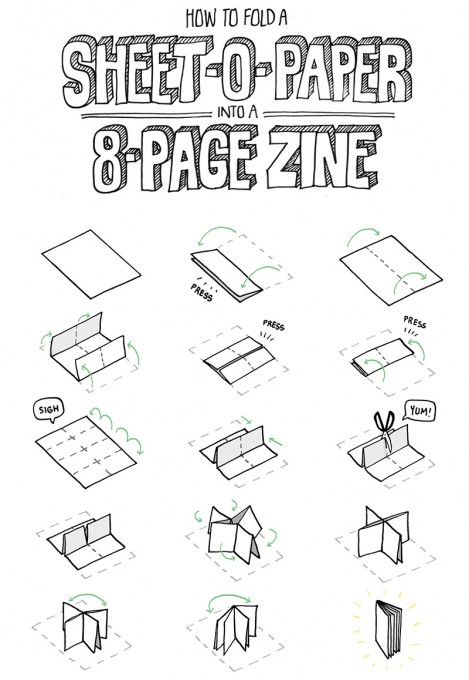 I hope that helps. There are tons of other resources that lay out how to make minizines, but this infographic was the one that really sunk in for me.
As a bonus, let me offer you an extra-easy way to start making minizines: a Canva template!
This template is what I made for my own use as I make zines–it's nothing fancy, but gives you guidelines for each page so that it's a little easier to keep everything visible and know where to fold.
You can use this to design zines digitally OR simply print it out, write/draw as desired, and scan it into your computer afterwards. Don't forget that some pages will appear upside down from the original orientation, though!
Let me give you a simple example so you can see what I mean:
There are multiple ways of doing this, but in this case (my first zine ever, before I made my template) the page that says "Things that make my life bright" is the front cover; the one right before it is the back cover, and the numbering should make the rest clear.
Zines are really fun little projects that can really be about anything. I especially enjoy swapping zines with people via Swap-bot, but you can just make them for fun or for sharing with family and friends.
---
A close cousin: a one-sheet pocketbook
Okay, so I'll admit–this one is a little more involved than the minizine. You might need binder rings to make it look nice in the end. But you still make it from just one piece of paper! Find the instructions here:
Cute, right? I've never really made a pocket book before, but I think I'll give this one a shot when I get around to it.
---
Envelopes galore!
If you have any interest in mail art, fun envelopes are a must! They make snail mail that much more fun to receive. And you don't really need that much paper to make them.
First on my list are a couple of kid- or beginner-friendly ones that you can find here:
These instructions are written really well, I think, with super clear pictures.
If you're up for something a little harder, try this more complicated envelope.
Unless you happen to be fluent in Italian, you'll need to translate the page to English. Chrome does this automatically, I think, though? So maybe try it on Chrome if it's all "Greek" to you.
There are way, way more ways to make envelopes from one sheet of paper. I also tend to enjoy the template method. I find that most of those are behind a paywall, but you can find some really nice template files on Etsy. I can vouch for this one, for example. And it's only $2, so that's not too bad, right?
---
Single-sheet origami animals
Origami is such a huge craft in and of itself, but I think it belongs here as a reminder that you can make cool little animals with just one piece of paper. 🙂
Crane
I can't start talking about origami without including a crane model. Like, c'mon. This was my go-to model (or approximately this) when I was a kid. It's a classic origami model for a reason! Find some instructions here.
Dragon
If you're following along in order here, you might notice that this dragon model shares a lot in common with the crane. That might make it easier, if you're new to origami! I just really like this take on an origami dragon–look at those cute little feet! Lol. Find the instructions here.
Dog
I'm extra excited about this one because, well, it's a dog and dogs are the best. But I also noticed, like the author did, that there aren't all that many origami dog models out there? I don't know why not, but it makes me extra grateful for this one! Here is your link.
---
Well folks, that's what I have for you today! There's a lot you can do with just one piece of paper, huh? Please let me know if you end up trying any of these and how they went!
Thank you so much for reading and I'll see you soon! 🙂
---